How to Participate
During the first week of each month, we will post a new question, topic, or activity for you to connect with the community and earn a badge. All community members who join our team and contribute a thoughtful comment to this month's discussion, between May 1 and May 31, will receive this badge worth 50 points by the end of the month. 
Badge of the Month | May 2023
Task: Join the XM Community's 5K For The Fight team
Here at Qualtrics, we care a lot about cancer research. This year, our community is participating in 5K For The Fight, a way to get active, raise money, and come together for cancer research. Join our team and sign up for a virtual or in-person event. Then, comment the event you chose, why you selected the event, your plans and/or your experience participating! Alternatively, donate $5 to the cause and comment why you fight!
The Qualtrics-led nonprofit, 5 For The Fight, is a global campaign inviting everyone to donate $5 to the fight against cancer. Each donation is made in honor of someone who is battling or has been touched by the disease. 5 For The Fight has raised more than $26 million to help eradicate cancer with one hundred percent of those funds donated directly to the world's leading cancer researchers.
 
Earn Prizes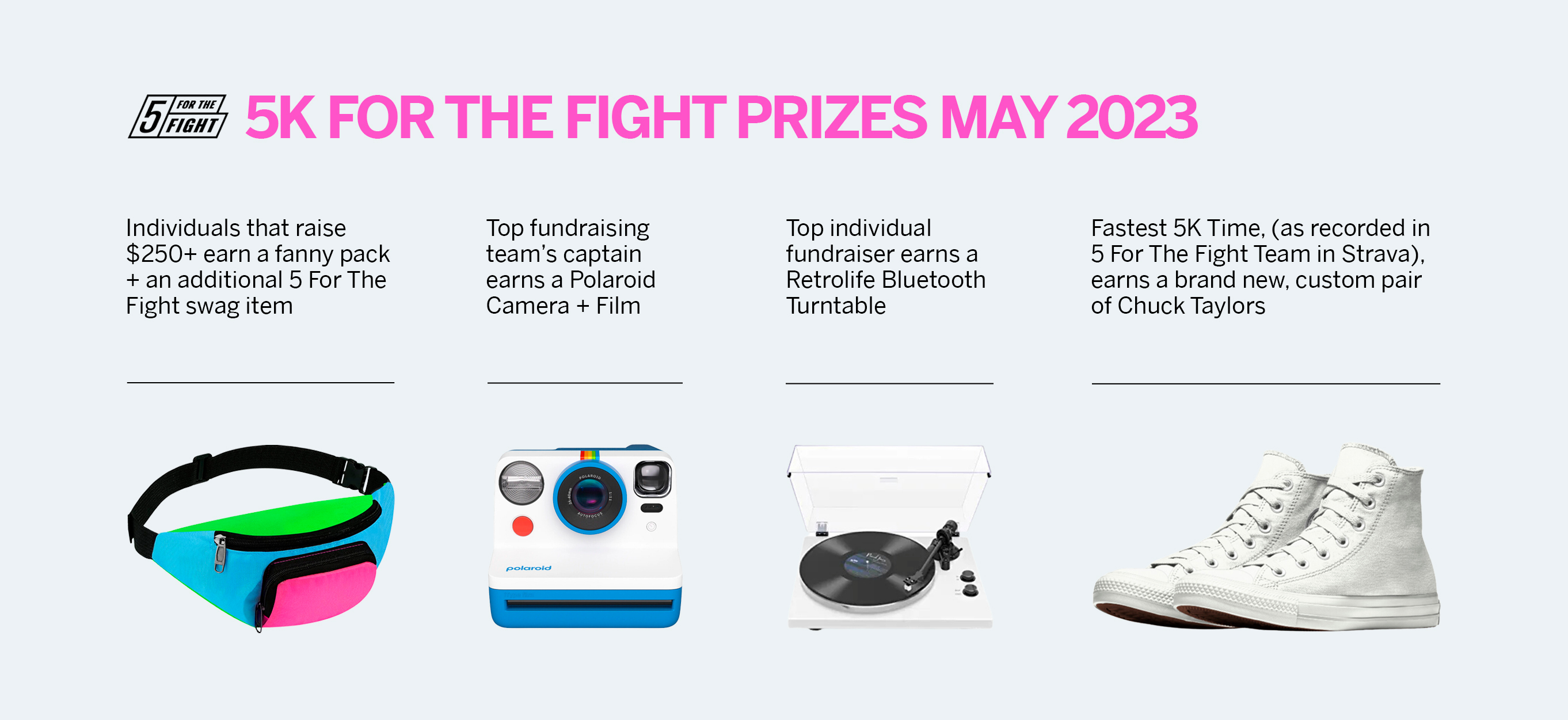 Virtual Events
 
5K (5 kilometers, 3.1 miles) 
May 15 - 19, 2023
The Virtual, Global 5K For The Fight 

Peloton Ride
12:00 PM EST | May 14, 2023
30-Minute ride with Ally Love (EMEA + NA friendly)

7:00 AM EST | May 15, 2023 
45-Minute ride with Ally Love (EMEA + some of NA friendly) 

The Do 5 Challenge
Choose your own adventure event in May 
Get creative with anything you can think of (5, 50, or 500 of them)

In-Person Events
 
5K Run (5 kilometers, 3.1 miles) 
May 15 - 18, 2023
A Qualtrics office near you
Select the in-person option and get invited to a group run/walk from a Qualtrics office near you.

Pickleball Doubles Bracketed Tournament
May 15 - 18, 2023 
Qualtrics HQ | Provo, Utah
Register by April 28th to participate in a 64 team, bracket-style tournament.

"5-on-The-Line" Basketball Challenge
May 31, 2023 
Qualtrics HQ | Provo, Utah
5 on the free-throw line in a basketball shootout